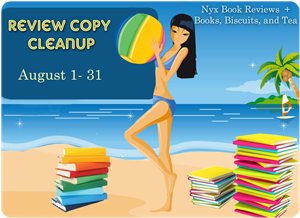 This post is to let everyone know that I'll be joining the Review Copy Cleanup in August. I have done readathons in the past but never with a group so I think this will be a fun experience, plus it's month-long so it's not quite as intimidating as some of the other readathons out there! I like that there will be lots of get to know you things happening (twitter parties, etc) and hopefully I'll enjoy myself in the process.
So what is Review Copy Cleanup?
Here is a little bit from Celine at
Nyx Book Reviews
and Vicky at
Books, Biscuits, and Tea
who are hosting the event:
What is Review Copy Cleanup?

Celine and I were getting swamped in review books. We decided to make it all a bit more fun and are challenging you all to read your review copies with us! Clean up that big pile of review books you've been neglecting this August and join the Review Copy Cleanup. During the month of August we will host a number of Twitter parties and mini-readathons in order to motivate ourselves and other participants! Is your review pile getting out of control? Then make sure to join us on a quest to clean up that review copy pile and to have some fun in the process.
If you want to sign up and/or read the full list of rules you can go to
this post on their site
.
What I will be reading:
August is still weeks away and I've been reading a lot, so rather than make a list and possibly have to change it later on, I'm just going to direct you to
my review books shelf on Goodreads
. I'll be trying to read as many of these as I can (currently at 29 but would like to get that down a lot by the end of the summer). Anything I still have to read on my
Summer Reading Challenge
list will be my top priority though.
Are you participating in this reading challenge or any other challenge over the next few months? If so, what is it?