This New Year's I've asked a few bloggers to come and share some of their reflections and goals with us. Today I'm interviewing Ashley from
Books from Bleh to Basically Amazing
. Check out what she has to say about her most memorable reads, books she's looking forward to, and scary genetically motified crops.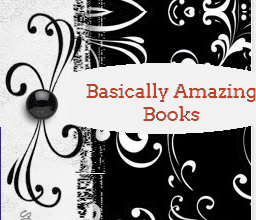 What are your top three most memorable reads (good or bad) of 2011?
My top memorable reads for 2011? Seriously? You are asking me to narrow it down to three?! Thou art cruel. But if I have to pick, I would say
*The Day Before by Lisa Schroeder which was my first book by Lisa and I loved it. I love this book with my whole heart and I recommend it to everyone. I promptly went out and read everything else Lisa has written and I'm convinced the woman is a genius. I've also chatted with her a bunch on Twitter, she participated in my Just Contemporary November event and she's amazing.
*Ballads of Suburbia by Stephanie Kuehnert is a book that is as completely removed from my life experiences as it is possible for a Contemporary book to be. I'm not even kidding. I've read fantasy and paranormal books where characters have experienced things closer to my life. But something about the way Stephanie created these characters just screamed reality. I was completely blown away by this book. And I loved them. I haven't connected to a story like that in a long time and I will never forget this book. I've talked to Stephanie a bunch to and she's absolutely awesome. I interviewed her for Just Contemporary November too and she told me that I asked some of the best questions she's ever seen for her books and I pretty much died. And then- She wrote a blog post about gratitude, and she used my name. Like, for realz. Guys. I'm still geeking out about this. I'm going to be 85, talking to my grandkids and still geeking out that this awesome woman whose ability to write completely blows my freaking mind talked about me. Word.
*Drums, Girls and Dangerous Pie by Jordan Sonnenblick is another book that I can't stop thinking about. It's a story about an 8th grade boy who learns that his 5 year old brother has Leukemia. I cried for the entire book. Seriously. I cried the whole time. In public too. I had at least three people, very concernedly as if I was okay... I had heard good things about this book, but I wasn't expecting it to be so amazing. But it's such an incredibly powerful story and the ultimate message of the book isn't tragic at all. It is one of the most touching and powerful books about love I have ever read. Seriously, I am tearing up just talking about it, because I'm thinking about the things the main character does for his brother and I have never felt a love that strong in a book before.
(Also, Erika, you really should know that there are at least 5 or 6 other books sobbing into their bindings because I didn't pick them. And I'm blaming you. You have the tears of many wonderful books on your hands because you made me pick only three... )
What three books are you most looking forward to reading in 2012?
My most highly anticipated 2012 books? Well first, I have Shadows on the Moon by Zoe Marriott (and I'm going to cheat and include FrostFire which will be released in the UK). I have had a UK copy of Shadows since September and I want to cry every time I think about the fact that I haven't read it yet. Zoe is the only non-contemporary writer that consistently makes it on my list of favorite authors. I love her and cannot wait to read these books!
I'm also itching to read Enchanted by AlethaKontis because it looks like a stunning fairy tale retelling and I love those. A lot.
The final book(s) I'm wanting to read are Finnikin of the Rock and Frio of the Exiles by Melina Marchetta (and possibly the third in the series, if it releases). Melina Marchetta is pretty much my most favorite author ever. Jellicoe Road is my favorite book of all time and I think the woman is made of genius. These books are her being a fantasy writer and I'm terrified of them, because I'm terrified that I won't like them. So I haven't read them yet. But I'm going to. I need to. Melina Marchetta FTW folks.
Also, I don't know if anyone else besides me finds this interesting or relevant, but all three of my favorites this year (and most, if not all of the ones I didn't pick) are Contemporary (which is my favorite genre) and all three I'm looking forward to for next year are not...
There's an old prophecy based on the Mayan calendar which says 2012 will bring in the end of days. 2012 is also a good year for dystopian and apocalyptic reads. If you were to write a story, what do you think you'd have "cause" the apocalypse (or society's downfall)?
Anyway, for your final question, I chose to answer both of them. For an apocalypse, I'd go with the Yellowstone super volcano erupting. I know that Mike Mullin already did that with his novel Ashfall (it's a very good book, too) but since I live less than 2 hours away from Yellowstone and had nightmares when I was a kid, right after learning that Yellowstone was, in fact, a ginormous volcano, horribly vivid nightmares about driving in the car over this rim, straight into a bubbling mass of boiling, oozing molten red and orange lava (even though I had been to Yellowstone many times before that and knew exactly what it really looked like) I'm pretty sure that I'm allowed to still think a lot about the horrid nastiness that would result if and when Yellowstone does decide to explode again. And you know what, I'm actually very glad that if Yellowstone does blow? I just die. It might be instant, or I might get about 20 minutes to watch the giant pluming ash cloud come to destroy me. Just depends on how the wind blows. But either way, I'm dead. And I'm okay with that. The world an eruption would leave behind is not somewhere that I'd like to be.
But, if we are talking society, I'd have the downfall of my society be ignorance. So much happens as a result of ignorance it makes me sick. And I'm using ignorance as a broad term, letting it umbrella out over other, related topics. I was going to expound on this more, but realized that not only would it take more space than I imagine I have, but it's also pretty much guaranteed to offend someone. So, take it how you will, read into it whatever you like. But ignorance and apathy are what I'm putting my money on as the reason society falls.