Today we have have Kathy from
I Am a Reader, Not a Writer
on to share with us. I love Kathy's feature, "Ask Me Anything" on her blog. When I asked her to come and share with us for our New Year's celebration here I thought it would be fun to have her answer one of my questions. Thanks to Kathy who agreed!
My Question:




"How do you prepare yourself for the New Year when it comes to reading and your blog? With all the books you must have for review, on your shelves, and on your wishlist do you come up with a plan to try to read as many as possible? For example, do you join reading challenges or set goals for yourself? Also, do you set any goals for what you want to accomplish on your blog?"
Kathy's answer:
2011 has been an interesting year for me as far as reading and blogging. I started my book blog in June of 2010. At the time I was reading a lot. In 2010 I completed 250 books:
http://iamareadernotawriter.blogspot.com/2010/12/250-books-read-in-2010.html
At the beginning of 2011 I joined an Outdo Yourself Challenge. I'd hoped to beat my record of 250 books. I joined the goodread's reading challenge as well hoping to read 500 books this year (I don't count picture books or books I skim in my annual total so the goodread's number is high to account for those types of books). I also joined a few challenges such as The Debut Author Challenge. I've not kept up with any of them so no more challenges for me.
I had set some goals for 2011:
What are your new years book blogging resolutions?




1. Read at least 150 books with 50 of those being audio books.




2. Continue to contact authors and set up book giveaways and interviews. Host at least 4 new giveaways each week.




3. Redesign my blog.




4. Make Best I've Read 2011 even better than Best I've Read 2010.




5. Get through my pile of books to be reviewed or get them into the hands of other reviewers.
As I'm sure everyone knows sometimes life happens and we are unable to meet the goals we set for ourselves. Life has thrown me some curve balls this year which have left me with little time to read. I've only read 114 books so far this year:
http://www.goodreads.com/review/list/1143268-inspired-kathy?shelf=read-in-2011
but the vast majority of those were during the first half of the year. Instead of focusing on not being able to meet my goal I've had to realize that 114 books is still a really good total. As far as the other goals I set I rarely contact authors anymore, they usually contact me. I have averaged at least 4 giveaways per week this year, some weeks there were a lot more and other weeks there were less. I did redesign my blog (Thanks Lori) and love it. Best I've Read starts next week but I didn't help set anything up this year that all fell into the hands of Cindy from Books Complete Me. And I didn't come close to getting through my pile of books that need to be reviewed. Going from reading 4 or 5 books per week to only reading 4 or 5 books a month has been hard for me, mainly because I have a huge bookshelf full of books I owe reviews on and my to read list is so incredibly long and out of control. There are so many amazing books out there I want to read but there are not enough hours in the day to read everything I would like to read.
My plan for 2012 is simply to read as many books as I possibly can and try to get caught up on the reviews I owe authors and publishers. I'm not setting a number goal, joining any challenges this coming year or setting any other goals other than to find the joy in reading and not stress. I know it will be impossible to read everything I've received to review and still find time to read the books I really want to read. Consequently I'm not forcing myself to read a book that doesn't hold my interest. If a book can't hook me within the first chapter I'm setting it aside and trying another one.
As far as my goal for my blog it is simply to keep it a hobby and not let it feel like a job.
Kathy
Thank you Kathy! Please go and check out her blog by clicking on the button below :)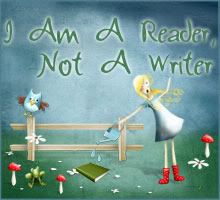 This post was part of my New Year's Signature Collection event.



Watch out for more guest posts, lists, reviews of January releases, author interviews, and more throughout January.