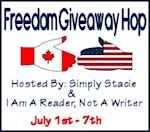 Well, it took all morning, but after finally tallying up over 1100 entries to the giveaway I finally have a winner.
Congratulations to...
Steph Likes Books !
You have won yourself a copy of Flying Blind by Deborah Cooke! Steph, I will be emailing you shortly. Please respond within 48 hours or I will need to choose another winner.
Thank you to everyone who entered the giveaway and all those who've joined me on Google Friend Connect, Twitter, Goodreads, and RSS. I'm absolutely stunned at how many people have decided to stay and read what I have to say here. Thank you so much :D
I will hold another contest/giveaway in early August. I'm not sure what I'll be giving away yet so please let me know if there is a book I have reviewed which you would really love to win and I will consider making it available in the giveaway.